---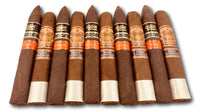 Sale
Best of both worlds! In this pack you get 5 of the #1 Cigar from 2018, and 5 of the #1 Cigar from 2019! And the best part of it all? It's 20% off MSRP!
Encore Majestic (2018 #1 Cigar)
Size: 5.6 x 52
Wrapper: Nicaragua
It's difficult to talk about the E.P. Carrillo Encore Majestic without mentioning the man behind the brand. Ernesto Perez-Carrillo is a cigar maker who has been through many phases in the cigar industry, a man who reinvented himself several times throughout his long career.
Aging Room Nicaragua Maestro (2019 #1 Cigar)
Size: 5 x 50 box pressed
Wrapper:  Maduro 

Country: Nicaragua
The #1 Cigar blend for 2019!
Made by AJ Fernandez, this smoke is a HOME RUN! The 96 rating is absolutely deserved on this perfectly priced, phenomenal smoke! 100% of the tobacco used for these cigars is from Nicaragua.  Look out for notes of dark chocolate and wood with a fantastic draw throughout the cigar! 
Due to this being the #1 rated cigar for the year, these will be hard to come by, so if they're in stock...grab em!