---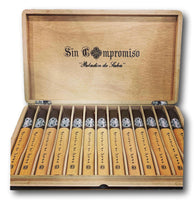 Sale
Size: 7 x 50 box pressed
Country: Nicaragua
Wrapper: San Andres
Binder: Ecuadorian hybrid Habano
Filler: Nicaragua
Paladin de Saka uses Dunbarton Tobaccos best of the best tobaccos. It is a 7 x 50 box-pressed Churchill that uses the same basic pieces as Sin Compromiso: a Mexican San Andrés negro "cultivo tonto" wrapper over an Ecuadorian hybrid habano binder and fillers from Nicaragua. One of the major differences is the addition of Pennsylvania ligero in the filler.
"Cultivo Tonto" refers to a unique growing method, inspired by how farmers in Japan grow certain fruit. Farmers remove the plant's lower leaves so that the maximum amount of nutrients can be sent to the upper leaves. Because of this, the yields of these plants are lower and the prices for the tobacco are much higher" Saka told Halfwheel. 
"Sin Compromiso, without compromise, is our company mantra and the guiding ethos for everything we do here at Dunbarton Tobacco & Trust. Creating a cigar brand to manifest this expression into a tangible reality was an incredibly challenging task as this cigar simply had to be beyond exceptional. From the cultivation of distinct and unique tobaccos to the careful working of these prized leaves to allowing only the very best torcedors to hand craft each cigar. Even the box which contains these vitolas had to be extra special – in short, this cigar is the absolute best of everything.
The result is a truly unique, complex cigar that is smooth, yet strong at the very same time. It delivers a captivating and entrancing smoke for the experienced palate with flavors that are constantly swirling and changing from puff to puff. At its core is an inherent sweetness paired with a savory spiciness, but hidden within its layers are notes of cocao, espresso, loam and even chicory root. I spent over three years of meticulously crafting and tweaking this blend and I can say without reservation it is personally my best liga ever. I have never experienced such an intriguing and satisfying smoke." - Steve Saka
Each cigar is gently soft pressed, sleeved in Spanish Cedar and packed in beautifully crafted 13-ct matte-lacquered boxes. Very limited in supply!