---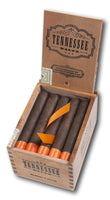 Sale
Size: 5 1/2 x 52
Wrapper: Connecticut Broadleaf
Country: Nicaragua
This rare cigar was exclusively available in Tennessee, until we got our hands on some!The Tennessee Waltz is a very flavorful cigar with notes of leather, sweets, spice, fruit, and wood notes. Made in the My Father Cigar factory, this cigar honors the state of Tennessee, which is home to Crowned Heads! These are a MUST HAVE! Photo brought to you by Half-Wheel.

Half-Wheel Rating: 90!
--
"Tennessee Waltz" is a song that is near and dear to my heart.
It was the song that was playing in the dance hall when my maternal Grandfather met my Grandmother. I vividly recall him whistling that tune throughout my childhood. It's a song that was made popular in 1950 by Patti Page, and has been recorded by everyone from Sam Cooke to Otis Redding to Norah Jones.
The state of Tennessee is also near and dear to my heart. I met my wife here, my family is here, and of course, Crowned Heads is headquartered here in Nashville. Crowned Heads owes a great deal to the people of Tennessee for their support from the very beginning. And so it is with a sincere spirit of gratitude that we present "Tennessee Waltz."
This unique medium-to-full bodied cigar is available exclusively in our great state of Tennessee. We hope you will enjoy this cigar that means so much to all of us here at Crowned Heads–and we thank you for your support which allows us to 'Carve Our Own Path.'
-Jon Huber
Crowned Heads
 *Expected to ship by Sept 20