---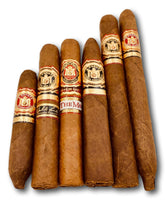 Sale
What an absolutely unreal line up of super high quality Arturo Fuente Cigars at an unreal value. You get a mash up of rare Fuente's that are almost impossible to find anywhere else along with your high quality premium Fuente's that will always satisfy your pallet.  
Here's what you get:
1) Short Story
2) Don Carlos Personal Reserve
3) Don Carlos "The Man"
4) Don Carlos Eye of the Shark
5) Don Carlos Presidente
6) Hemingway Classic