---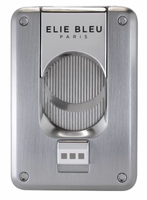 Sale
Elie Bleu has his the cigar industry by storm with his absolutely STUNNING cigar accessories! Don't miss out on your opportunity to sport some highly fashionable items while they last!
•Exclusive Elie Bleu Design
•Surgical Stainless Steel Blades
•Auto Open System
•UV Durable Lacquer
•Tobacco Portal 
•Surgical stainless steel blades
•UV Durable Lacquer
•Size :  1.75 x 0.31 x 2.56"