---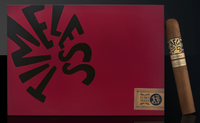 Sale
Size: 6 1/4 x 52
Wrapper: Honduras
Binder: Dominican Republic
Filler: Dominican Republic, Nicaragua
Country: Dominican Republic
Timeless Prestige is a complex, new world blend of six tobaccos from three countries.
The Timeless collection is a diverse and highly-rated collection of their most complex and inspired blends. The Timeless Collection offers very unique blends, combining multiple countries of origin and seed varieties, vintages and leaf positions, to offer elaborate complexity. Deliberate development of strength, flavor and aroma from shape to shape and start to finish makes for a fragrant and pleasurable smoking experience.
Ferio Tego is a new legacy in premium cigars and a legacy continued; a result of a relentless spirit of perseverance, reverence and a commitment to excellence. The company's logo, inspired by the image of Hercules striking a Hydra and found on the shield of the Herklots family coat of arms, symbolizes the translation of "Strike and Defend." Ferio Tego is not only a name, but a system of beliefs that owners Michael Herklots and Brendon Scott hold core to their vision - to choose to dare, to take risks and to follow dreams rather than settle. This vision is not only clear in the innovation and products that Ferio Tego offers, but the manner in which they intend to preserve and grow relationships, partnerships, and business together.