---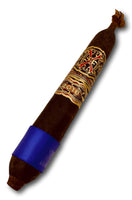 Size: 6 1/8 x 46/64
Country: Dominican Republic
Here it is...the Big Daddy...The BBMF Maduro. As if the BBMF wasn't rare enough..now you have a BBMF Maduro with a purple band to deal with.
One of the absolute rarest cigars on the market. BBMF stands for Big Bad Mother...you know the rest. Such an unbelievably constructed cigar who's ash does not want to go away while you smoke.  An array of flavors keeps you interested the entire way. 
 If you haven't tried one, you're in for a treat! Such a bold smoke yet so well balanced.  So many flavors come to the pallet such as black peppery notes with a leathery finish.  Definitely an enjoyment throughout the start to finish.  The Bull is an extremely rare opus!  If its in stock, give it a go!
The Fuente Fuente OpusX is the first ever Dominican Puro, made with a glorious wrapper tobacco cultivated in the mineral rich soils of the Dominican Republic.  The OpusX blend is regarded by many as the pinnacle of cigar perfection. 
Nestled in the rich, volcanic soil of the Dominican Republic lies the Chateau de la Fuente, home to one of the finest cigars of our time, the highly coveted OpusX. 
The Mineral rich soils of the Dominican Republic, once deemed unsuitable for wrapper tobacco, had never met with the expertise and tenacity of the Fuente family.  Together they cultivated a glorious wrapper tobacco that became the foundation for the renowned Fuente Fuente OpusX, the first ever Dominican Puro.
Today Fuente Fuente OpusX is regarded as the pinnacle of cigar perfection, and the standard by which all cigars are measured. The unique combination of Fuente tobaccos produce flavors both smooth and bold, in harmony with the sweet lingering fullness of the exclusive Fuente Fuente OpusX wrapper tobacco.  Flawless construction, exquisite flavor, and a century of mastery and tradition.  
These cigars are certainly not a cigar that is regularly in stock, so if they are, don't hesitate!