---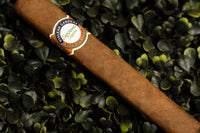 Sale
Size: 6 x 50
Country: Nicaragua
"If you watch our YouTube channel, you already know about Erik Espinosa. A tough, stout, Cuban from the streets. He built a multi-million dollar company out of absolutely nothing except passion and hard work. The American dream. The first time I went to visit Espinosa was the first time I was ever in Hialeah Gardens. Almost all of my cigar shipments come from this area of Hialeah Gardens, Hialeah, and Doral. This is an area outside of downtown Miami that is 100% Cuban. It is like being transported to a different country in South America or the Caribbean. I started to think about how every cigar typically has the city name of Havana and Cuba. Then I started to think about the reality of it all. The cigars we smoke pass through this area more than anywhere else in the world. And I thought to myself, "why the hell doesn't anyone call their cigar the Hialeah?" So I asked Erik and he said "why the hell would anyone do that?" To which I answered, "Because it's the truth."  As much as we like to glamorize the old world and tradition, the truth becomes tradition. And the truth is that since about 2001 and beyond, Hialeah and Hialeah gardens have become THE cigar epicenter. Enjoy one of the better cigars you may have all year. Espinosa put everything he had into this blend. There are some cigars that just get all the love, and this is one of those.  #weareprivada"
 -Brian Desind
Notes from Brian Desind - 
Tasting Notes: Bourbon oak barrel, barnyard funk, ripe tobacco, maple syrup, and florals make for one of the more complex bodies yet. Milk chocolate and rich tobacco with maple syrup notes on the foot. Red pepper with fresh oak on the cold draw. The first third begins with deep oak, red pepper, toast, wheat, a citrus zing that we lovingly call Sprite, and creamy smoke with black pepper in the retro. Tart, creamy, peppery, phantom fruity flavors like Fruit Loops, sweet and cereal like. I truly cannot help but taste Fruit Loops! A sour zing with oak, toast, wheat, and black pepper along with red, rich tobacco, leather, and white pepper with cereal grains. On the second I get rich tobacco, leather, toast, fruity zing, creamy smoke, oak, white pepper, slight graham cracker, and a slight fennel note which changes things. In the final third I get honeysuckle, toast, and the oak turns dank or wetter. There's a vanilla note, the pepper turns to salt, and there's an overall wheat note. Creamy like nothing else, and clean on the finish. This is one of those cigars made with aged tobacco and balance in mind.
Pairing Notes: Hershey's chocolate kisses. Butterscotch. Cinnamon crumb cake. Fruit Loops. Graham crackers. Red wine. Cognac. Bourbon. Scotch. This is going to go well with almost any brown spirit, as long as it is not smokey. Werther's Original. Root beer. Espresso with sugar.