---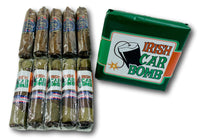 Happy St. Patrick's Day! What better way to celebrate than getting some St. Patrick's Day cigars?!
This fun pack includes 5 Fire Crackers and 5 Irish Car cigars!
The Irish car cigar is a 3 x 50 petit robusto that uses a barber pole wrapper design made from Dominican candela and Mexican San Andrés leaves, with the candela providing the tobacco used for the line's signature wick. The binder is Nicaraguan criollo, the filler uses Dominican ligero along with Nicaragua and Pennsylvania broadleaf tobaccos. The cigars are produced at the Magia Cubana factory in Gurabo, Dominican Republic, with production limited to under 15,000 cigars.
"Cigars are meant to be celebrated with friends and smiles," said Oliver Nivaud, director of operations for United Cigars. "The rich and creamy draw on this limited release, barber pole Firecracker is perfect. So let's raise a pint this St. Paddy's Day and light up an Irish Car Firecracker."