---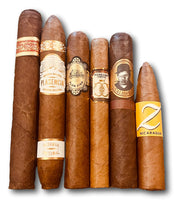 Sale
Let's kick off summer the right way, with a summer mix pack! To start things off, we are featuring the rare JC Newman Yagua! This cigar is super unique and each one comes in a different shape. Alongside the Yagua you have 5 other premium and popular name brand cigars!
1) JC Newman Yagua
2) Plasencia Cortez
3) Warped Chinchalle
4) Foundation Highclere Castle Petit Corona (substituted with Highclere Castle Toro)
5) Blind Man's Bluff "This is Trouble"
6) Zino Nicaragua Short Torpedo (substituted with Toro size)