---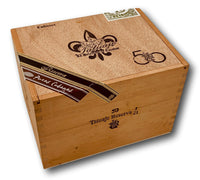 Size: 5 x 50
Country: Nicaragua
Pete Johnson is back at it again with more super rare boxes! He has released a limited batch of older cigars to celebrate his milestone 50th birthday. Each of these boxes contain 50 cigars and each with the number 50 on the lid. 
"They are normal Noellas, Regios and J21's from our production in Miami," Johnson said. "The branding and bands are the same as the 25-count boxes. The difference is that the cigars come from older production and the cigars are packed in foil paper [bundles] inside the cabinet of 50." The cigars, said Johnson, "were aged for just over a year before packing them in the cabinets."
If you're a fan of Tatuaje, you better hop on this one!
"Only 100 cabinets of each were made to celebrate my 50th birthday and they will not be made again," said Johnson.