---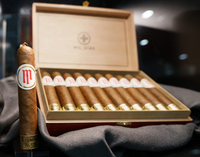 Sale
Size: 4 7/8 x 56
Wrapper: Ecuadorian Habano
Country: Nicaragua
They say it takes 10,000 hours to become an expert in any given field. Myth or not, Crowned Heads and Tabacalera Pichardo in Nicaragua seem to have taken that maxim to heart, working for 1,000 days to get their cigar brand, Mil Días, just right.
Mil Días, which translates to "1,000 days," began back in 2017 when ACE Prime Cigars co-founders Eradio Pichardo and Luciano Meirelles (who also co-own Tabacalera Pichardo) presented some blend samples to Jon Huber, co-founder of Crowned Heads.
"I was very impressed with those initial samples and I felt the blend had tremendous potential," said Huber. "Little did I know that those samples would take us on a nearly three-year journey of blend exploration and experimentation."