---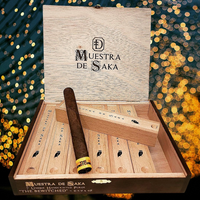 Sale
Size: 6 5/8 x 50
Country: Nicaragua
Wrapper: Ecuadorian Habano
The Bewitched is the newest blend in the Muestra De Saka line! It features an Ecuadorian habano-seed wrapper, Cultivo Tonto San Andreas Negro binder grown in Mexico, and a mix of Nicaraguan and American-grown fillers. 
Very creamy with notes of caramel, wood with a tempered spice - begins mild, increases in intensity toward the finish.

Style: Sophisticated and elegant for the more experienced palate" - Steve Saka
"Muestra is the humble, common word for "sample" in Spanish, however it takes on much more important, sometimes reverential, meaning when used in a handmade cigar factory. A muestra is the vision of the ligador and torcedor realized, it is the promise of a new experience and possibly the key to financial success for the fabrica. Muestras are hoarded and coveted by not only their makers, but by the cigar smokers who seek to catch a glimpse into the cigarmaker's soul within their smoke.
Muestra de Saka is just that. A line of unique blends and vitolas made in extremely limited quantities that reflect the blending machinations of myself. To smoke a Muestra de Saka is to embark upon a journey with me in which I greatly welcome your companionship." - Steve Saka