---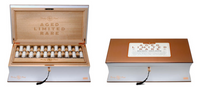 Sale
This is one of the most beautiful humidors on the market! Only 250 of them have been made!
The A.L.R. Second Edition Humidor also has 100 cigars, but those smokes are extra special, a size known as the Bala, only available in the A.L.R. line via the humidor.
The idea behind the Bala shape is from the work of Hamlet Paredes, a cigar roller from Cuba who has worked for Patel since 2015. "It's a size that Hamlet created with a special mold," said Patel. This is as exclusive as it gets!
The cigars:
Country: Nicaragua
Strength: Medium-Full
Size: 5 3/4 x 58
Cigar Aficionado Top 25 Cigars of the Year ~ #5 in 2019
94 Rating ~ Cigar Aficionado
In 2016, Rocky blended a cigar featuring an exquisite San Andrés wrapper. Deciding that this blend would develop even further with age, he ordered a short production run of 120,000 cigars. The cigars were laid to rest in an aging room and locked away for two years. Its contents are a mystery but the rest is history.
Grab yours today and prepare for the second coming.