---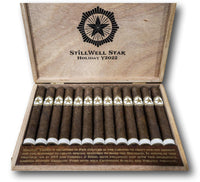 Sale
The newest Stillwell Star is here! The Holiday blend! Only 2,500 boxes made!
Made in Fábrica de Tabacos Joya de Nicaraguaa, this is a 6 x 52 parejo that uses an Ecuadorian habano wrapper and a Mexican San Andrés cultivo tonto negro binder.
StillWell Star is made in collaboration with Cornell & Diehl, one of America's largest pipe tobacco companies. The filler blend of each StillWell Star release is made of pipe tobacco, in the case Cavendish burley and Virginia tobaccos.
"A tradition in Pipe Culture is for carvers to craft one-off pipe designs and for blenders to create special mixtures to smoke and celebrate the Holidays," said Steve Saka, founder of Dunbarton Tobacco & Trust, in a press release. "In honor of this practice, it was always my intention to follow suit within our StillWell Star line of puros. This year's release is a delightful aromatic puro with a carefully balanced selection of mild Cavendish Burley and choice Virginia tobaccos incorporated. Unlike the Aromatic No. 1 in the core line, this Holiday release does not feature a dulce cabeza, however the tobaccos themselves are wonderfully sweet to the tongue – the flavor and aroma are nothing short of exceptional. Personally, I find the smoking experience to be like sipping a cup of hot chocolate with marshmallows fireside." - Quote from Halfwheel